Hi, guys. Its been a while since my last entry. Am I too busy? Not really. Just too lazy to open up my lappy yet I don't have any idea to update. Haha, pity me! SR rasa tak terlewat untuk ucapkan Selamat Hari Raya kepada semua umat Islam khususnya kepada yang sedang membaca entri ini saat ini walaupun dah 9 Syawal. Haha. Maaf dipohon seandainya diri ini pernah terkasar bahasa, melukakan/menguriskan hati sesiapa, buat korang terasa ke. Minta maaf sangat-sangat, ya?
Raya ni rasa macam sejekap sangat. Biasanya setiap tahun, keluarga SR akan balik belah Papa dan Mama secara sama rata. Maksudnya kat sini, kalau kat Melaka (belah Mama) 5 hari, kat Kedah (belah Papa) pun 5 hari. Tapi kali ni, 4 hari di Melaka dan 3 hari di Kedah. Kat Kedah pun tak sempat nak beraya sangat. Sebab dari Melaka nak ke Kedah dah amik masa 12 jam (jalan jam, singgah makan, solat dan toilet) Dari Kedah ke KL pun sama.
Raya Pertama
Biasalah kan, lepas sembahyang Raya, sampai rumah terus buat sesi bersalam-salaman dan bermaaf-maafan. Sesudah itu, biasanya sesi fotografi setiap keluarga. Malangnya terpaksa buat lambat sikit dari biasa sebabnya hujan. Jarang tau hujan waktu di pagi raya. So, its a bless. Tapi, plan lari sikit sebab ingatkan lepas tu nak pergi kubur. Lastly, petang lepas Asar baru gerak pergi kubur.
My beloved Family! Its candid time!!!
The Siblings. And yes. I'm the only one sister with 4 brothers.
The Cousins. Actually, ramai lagi sebenarnya. Cuma dorang malu. hehehe
Balik je dari kubur, cousins SR ajak pergi pantai (since kampung dekat sangat dengan pantai), konon-kononnya nak photoshoot. Seriously, best! Cuma tak dapat nak share gambar sebab semua gambar ada kat my cousin since guna camera phone dia.
Raya kedua
Raya kedua, pergi melawat saudara-mara yang stay area Melaka. Dekat 5 buah rumah jugaklah singgah beraya. Dari tengahari hingga malam. But, we are having a good time together. Hari kedua ni takde gambar sangat. Hehe
Raya ketiga
Raya ketiga dah bersiap-siap nak gerak balik Kedah. Perjalanan yang agak panjang buat SR bosan. Nak main phone pun tak boleh sebab bateri dah nyawa-nyawa ikan. Huhu. Dari pukul 10.30-11.00 pagi macam tu bertolak dari Melaka, pukul 10.30 malam, sampai Kedah. 12 jam okay!
Yeah, itulah sedikit sebanyak cerita Raya SR pada tahun ni. Raya keempat dan kelima takda apa sangat. Sebab stay kat rumah je. Raya kelima, gerak balik KL semula. Kitaorang bertolak pukul 3.30--4.00 petang ampai dalam pukul 1 pagi macam tu. Esoknya dah mula class. Gagahkan jugaklah diri ni untuk pergi walaupun mengantuk tahap paling maksimum! Hehe
Oh, ya.. Sehari sebelum raya tu, SR berpeluang belajar menganyam ketupat. Berjaya atau tidak? Guess, first???
-
-
-
-
-
-
-
-
-
-
-
-
-
-
-
-
-
-
-
-
-
-
-
-
-
-
-
-
-
-
-
-
-
-
-
-
-
-
-
-
-
-
-
-
-
-
-
-
-
-
-
-
-
-
-
-
-
-
-
-
-
-
-
-
-
-
-
-
-
-
-
-
-
-
-
-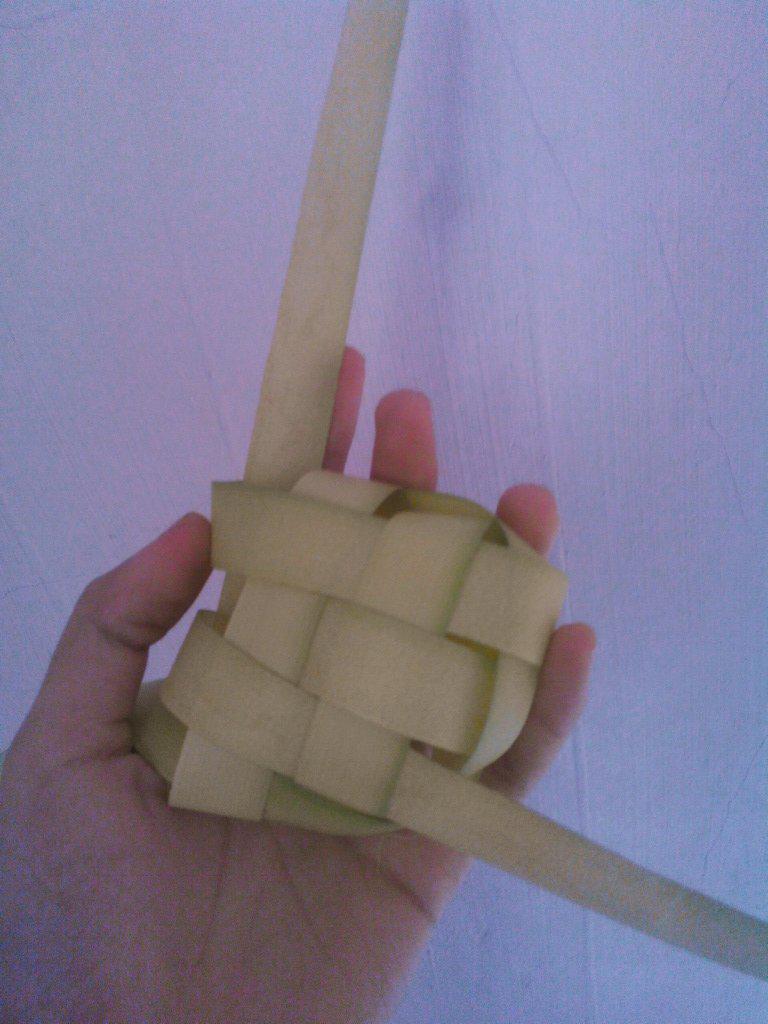 Ye, itulah hasilnya. For your information too, adik lelaki SR yang ajar menganyam ketupat ni. First dia ajar, okay sebab adik SR tunjuk dan SR ikut dia. Tapi, bila buat yang kedua sendiri, terus tersangkut di tengah jalan macam gambar kat atas ni. hahaha. Give up! Lepas ni kena belajar menganyam guna reben dulu, baru guna daun kelapa agaknya. Haha.
Thats all for now. See you in the entry. (Maybe about my Raya Haul). Stay tuned, okay? Xoxo