I feel like to rewatch my favourite Korean drama, and I did. That's the reason why this entry is here. I still remember the first Korean drama that I watched, it was Smile Again (2006). It is the first Korean drama that I watched during my early secondary school. I still remember that I was watching it in the morning before I got ready to school since my school was in the noon time. That's how I started to know more about Kpop, I guess.

It's already 2016 and I probably has watched more dramas. There's a lot of Korean dramas out there, but I'm quite a choosy person when it comes to watching Korean drama. So I only watched it if; I know the actor or actress of the drama and the story line attracted me to watch them. I'm so choosy, right? So, that's is the reason why I rarely watching Korean dramas. I prefer variety shows like Runningman and We Got Married and few more.
So here is the list of my favorite ones.
EMERGENCY COUPLE
While in their early twenties, a medical school student, Oh Chang-min, and a dietitian, Oh Jin-hee, fall in love and marry despite his family's strong opposition.
Chang-min comes from a family of wealthy, successful doctors who believe Jin-hee isn't good enough for him, which thus prompts them to cut him off financially after he marries her. In order to earn money right away, Chang-min gives up his dream of becoming a doctor and instead becomes a pharmaceutical salesman. He is miserable at his job, while Jin-hee's inferiority complex deepens as her husband's family continues to look down on her. They begin to fight constantly and eventually get a divorce. Six years later, Chang-min has gone back to med school to pursue his dream, while Jin-hee has also put herself through med school. They end up as interns
at the same hospital, where they'll have to work in the emergency room
together for three months.
SOURCE :
Wikipedia
Can you imagine how it is gonna be when you have to work together with your ex-husband after six years being separated? Awkward, maybe? That's happened to Oh Chang Min and Oh Jin Hee during their time working together as a trainee in the emergency room. They hate each other since their first meeting after six years but after one incident happened, they slowly became close to each other. A lot of things happened between them and that makes they fall in love again for the second time.
Watch drama : link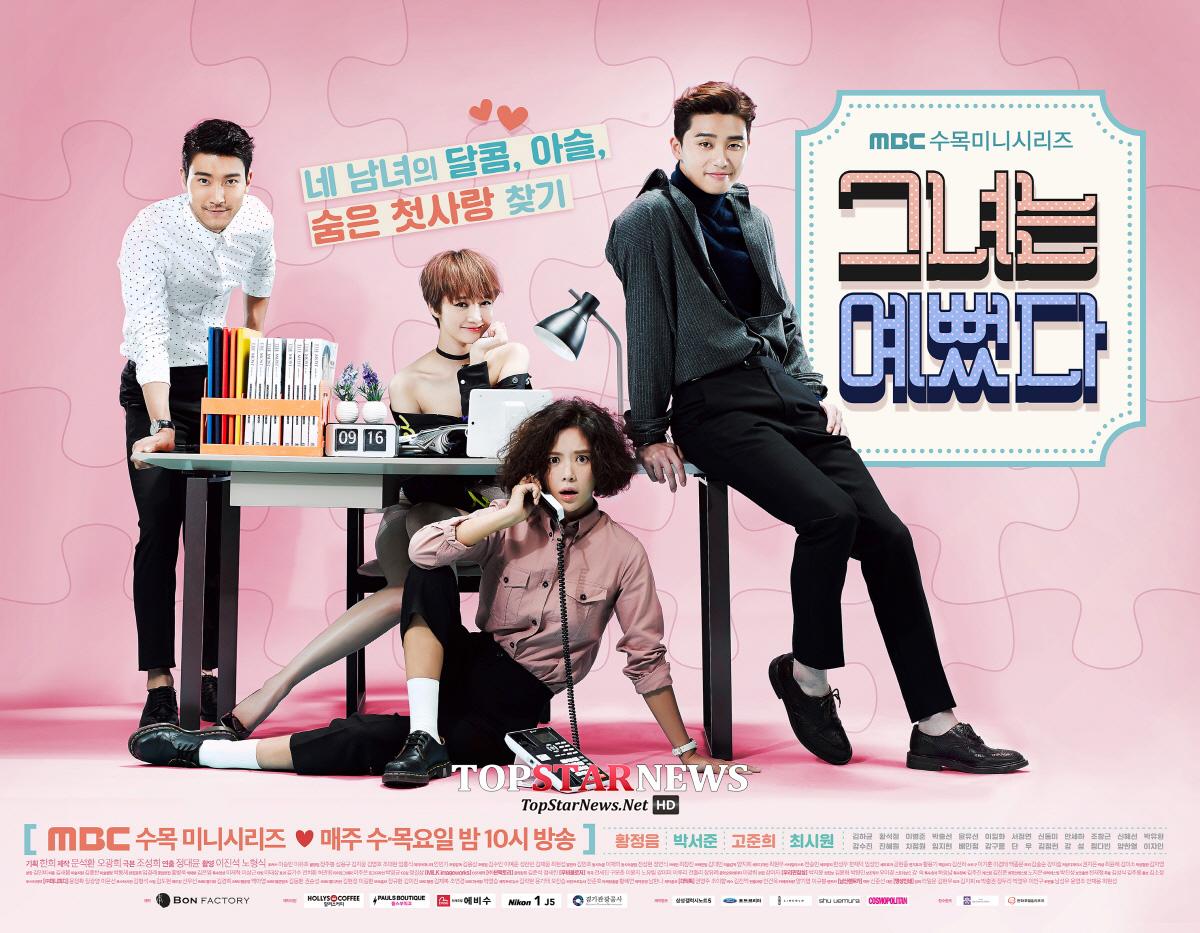 SHE WAS PRETTY
A romantic comedy about two past acquaintances who meet again after they've gone through a reversal of fortunes and appearances, set in the backdrop of a fashion magazine's publishing office.
Kim Hye-jin was a very pretty girl from a rich family. After her family's publishing company went bankrupt, she experienced hardships then lost her beauty too. Ji Sung-Joon was an unattractive boy with low self-esteem but grows up as a handsome and successful editor.
The two decided to meet again as adults, but Sung-Joon was unable to recognize Hye-jin. Ashamed to meet her first love and ruin his perception of her, Hye-jin asks her attractive best friend, Ha-Ri, to appear in her place. Things, however, soon get complicated as Hye-jin was assigned to work at The Most magazine publishing office where Sung-Joon is the deputy chief editor. He openly mistreats and belittles her for her clumsy nature, not knowing that she was his real childhood friend. Ha-Ri also continues to meet Sung-Joon, and soon develops feelings for him. On the other hand, Hye-jin finds a good friend in her workplace, Shin-hyuk, who slowly falls in love with her.
This drama is about a girl who is pretty in her childhood but not during her adult age. She decided to meet her first love, Sung Joon but she want her best friend, Hari to replace her position and meet Sung Joon after realized how good looking he is compared to her who is not. Things became more complicated when Hye Jin and Sung Joon are working at the same department at The Most. Hye Jin actions sometimes make Sung Joon dislike her more and makes Hye Jin lose confidence to tell him the truth that she is his best friend during their childhood. Hari continues meeting Sung Joon as Hye Jin and fall in love with him.
CINDERELLA AND FOUR KNIGHTS
Based on the novel "Cinderellawa Nemyungui Kisa" by Baek Myo which was first published on 2011-November-4 by BandiBooks. The series was fully pre-produced before its premiere. Eun Ha-Won (Park So Dam) is a high school student who dreams to be a veterinarian but needs money for her education. She ends up living in a mansion, Sky House, with three third-generation chaebol cousins under same conditions. Kang Hyun Min (Ahn Jae Hyun) is a playboy plutocrat who does whatever he wants while Kang Ji Woon (Jung Il Woo) is soft hearted but lonely and wild-child rebel who rises in status to a member of the royal family in the Sky House. The third cousin, Kang Seo Woo (Lee Jung Shin), is a top singer-songwriter who is gentle and kind to Ha-Won.
Eun Ha-Won, a 20 years old girl who has quite a lot part time jobs so that she can attend a college. Her father is a lorry driver, so he is rarely at home so Eun Ha-Won lived with her stepmother and stepsister who treat her so badly and ask her to do chores and everything. Something bad happened and the money that she collected and earned before was used for something else. Because of that, she has postponed her intention to go to the college. She also got chased out from the house by her family. Until she meets with a President of Kang. He asked Eun Ha-Won to change his grandchildren also known as Kang's cousins that each of them has their own personalities and characteristics with some offers that will change her life.
Watch drama :
link
Here are the dramas that I have watched before. But above would always be my favourite ; Oh My Ghost, My Secret Hotel, Boys Over Flowers, Poseidon, and a few more that I can't remember. Some of them are new and some are not. And currently, I'm watching
On the Way to the Airport
and Secret Love. I watch it because they said that Patahnya Sebelah Sayap was a Malay version of Secret Love. We will see. So far, it is kind of similar storyline. They changed a bit but still with a similar storyline.
Thanks for reading!
What's your favourite Korean drama?